We are more than fundraisers. We are the game-changers and the waymakers. We look for the tough issues in our community, and with your help, we go solve them. United Way connects donors, volunteers, businesses, nonprofits, and community leaders to help change the lives of those in need.
The concept of community impact is to measure success by evaluating the impact our investments are making on the individuals served and, in turn, our community, rather than measuring success simply by achieving our annual fundraising goal. Generous and caring local donors make it possible for United Way to create lasting change in our local community.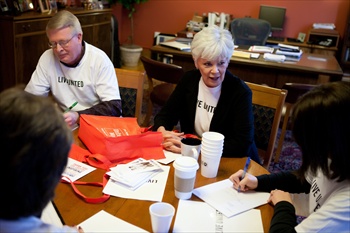 Each year United Way of Western Kentucky (UWWKY) donors are invited to join a local or regional impact council, or fund allocation committee. Each impact council reviews program applications within the impact areas of education, income, and health. Agencies applying for program funding are thoroughly reviewed to ensure the highest standards in nonprofit operations and donor allocations. The Impact Council of donors recommends funding awards for each program, with final approval provided by the United Way Board of Directors. If we are unable to fund an applicant, it is possible that the agency could become a Community Partner. United Way Community Partners are agencies that have a written partnership/impact agreement for programming offered in collaboration with UWWKY. Funded Partners will be informed of funding decisions annually in June.
Click here to view the EDUCATION Community Impact Plan.
Click here to view the INCOME Community Impact Plan.
Click here to view the HEALTH Community Impact Plan.
The learn more about the complete process of applying to be a United Way partner agency click here. 
To discuss a Community Partnership, please contact the United Way at 270.442.1691. 
If you have general questions about Impact Partnerships, submit below.