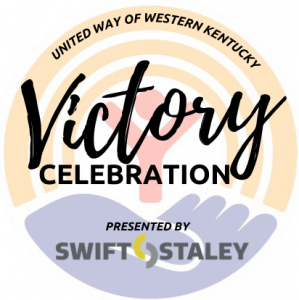 Join with us on June 22 for the 2023 Victory Celebration!
Enter for your chance to win $5,000 through our Jackpot Raffle!
United Way of Western Kentucky will host their annual Victory Celebration at Walker Hall Event Center on Thursday, June 22. Victory Celebration is a partnership with the Fred Paxton Challenge for Charities and is presented by Swift & Staley, Inc. 
The Victory Celebration includes the excitement of a jackpot raffle with a mission focused message and award ceremony. Annual awards are presented to honor individuals and organizations that have directly impacted the community through their partnership and dedication to the United Way.
Raffle tickets are $50 each and will be sold through 11:59 pm on Wednesday, June 21, 2023. Click the "purchase" button on the right for your chance to win $5,000. Drawing will be held on June 22 at 12:15 pm at Walker Hall Event Center and visible on the United Way Facebook page, the WPSD Local 6 Facebook page and WPSD Local 6 noon newscast. One winner will be selected. Must be 18 years of age or older to enter. You do not have to be present at the event to win.
Proceeds from this event will serve the region by improving conditions in education, income and health. For more information call 270-442-1691.  
2022 Awards Winners:
Overall Campaign of the Year – Computer Services, Inc.

Largest Campaign Increase – City of Paducah

New Supporter of the Year – Housing Authority of Paducah

LIVE UNITED Corporate Partnership – Baird Private Wealth Management

LIVE UNITED Small Business Partnership – Walker Hall Event Center - David & Linda Curtis, owners

LIVE UNITED Nonprofit of the Year – Washington Street Baptist Church

Samuel S. Sloan Employee Campaign Coordinator of the Year – McKenzie Huskey, City of Paducah

Ladd Mathis Lifetime Achievement Award – Caroline Korte, Paducah Bank

LIVE UNITED Impact Award, Education – Geco Ross, Paducah Middle School

LIVE UNITED Impact Award, Income – Ashley Miller, Lifeline Recovery Center

LIVE UNITED Impact Award, Health – Pastor Raynaldo Henderson, Washington Street Baptist Church

LIVE UNITED Impact Award, Youth – Addison Allen, McCracken County High School Graduate

Outgoing Board of Directors – Brandon Hall, Four Rivers Nuclear Partnership; Maegan Mansfield, Bacon Farmer Workman Engineering & Testing, Inc.; Vicki Morgan, Progress Rail and Bill Pinkston, Denton Law Firm
Charitable Gaming License Number EXE0001467
Click here to view pictures of the 2022 Victory Celebration
Click here to view pictures of the 2021 Victory Celebration 
Click here to view pictures of the 2019 Jackpot Elimination Dinner