2023 Power of the Purse
Tuesday, April 11 - 11:30 am at Walker Hall Event Center
Empowered Women, Empower Women.
Each year, over 200 women come together to support each other as well as other women in America with the hope of bringing awareness to the pay gap between males and females.
Power of the Purse is a unique event featuring a designer purse auction, keynote speaker, luncheon and networking opportunities. Each designer purse is stuffed with surprises that range from jewelry to spa certificates and much more. 
Proceeds from this event benefit United Way of Western Kentucky and Paducah Professional Women with the goal of empowering women in our community.
Power of the Purse is presented by Baptist Health Paducah.
Charitable Gaming License Number EXE0001467
CLICK HERE FOR SPONSORSHIP AND TICKET INFORMATION!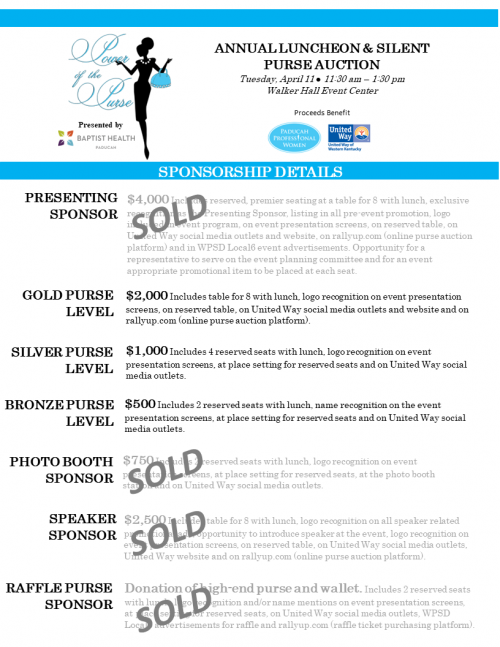 [1] http://www.pay-equity.org/index.html
Click here to view photos of the 2022 Power of the Purse luncheon and silent auction
Click here to view photos of the 2021 Power of the Purse luncheon and silent auction
Click here to view photos of the 2019 Power of the Purse luncheon and silent auction
Click here to view photos of the 2018 Power of the Purse luncheon and silent auction
Click here to view photos of the 2017 Power of the Purse luncheon and silent auction
Click here to view photos of the 2016 Power of the Purse luncheon and silent auction