We're more than fundraisers. We're the game-changers and way-makers. We look for the tough issues in our community, and with your help, we go solve them. United Way unites donors, volunteers, businesses, nonprofits, and community leaders to help change the lives of those in need.
The concept of community impact is to measure success by evaluating the impact our investments are making on the individuals served and, in turn, our community, rather than measuring success simply by achieving our annual fundraising goal. Generous and caring local donors make it possible for United Way to create lasting change in our local community.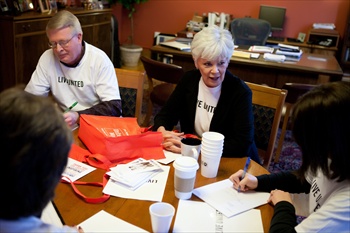 Each year United Way donors are invited to be on a fund allocation panel for one of our focus areas: education, income or health. Each panel reviews program applications, visits the agencies applying for program funding, and reviews the applicant agency's financial information. The panel of donors then recommends how much funding each program should receive. The recommended amounts from each panel are presented to the United Way Board of Directors for approval. Applicant agencies will be informed of funding decisions in March, annually. We call this process that allows United Way donors to allocate their dollars, Community Investment.
Click here to view the EDUCATION Community Impact Plan.
Click here to view the INCOME Community Impact Plan.
Click here to view the HEALTH Community Impact Plan.
The 2023-2022 Community Investment pre-application is open until Wednesday, November 30, 2022. 
If you have general questions about the Community Investment process, submit below.